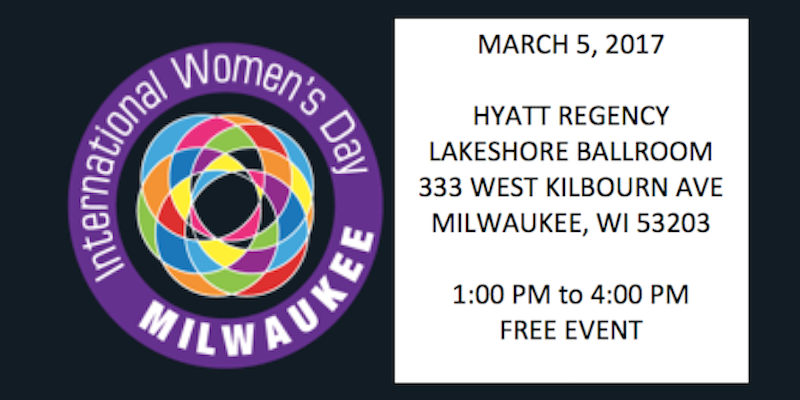 Event:
Start:
Sunday, 05 March 2017 13:00
End:
Sunday, 05 March 2017 16:00
Category:
Organizer:
Venue:
Hyatt Regency Milwaukee
Address:
Lakeshore Ballroom, 333 West Kilbourn Avenue
Milwaukee
WIUS
On Sunday, March 5, 2017, our community will join women from across the globe to celebrate International Women's Day (IWD). This celebration, whose mission is to educate, empower and inspire women for the greater good of the community, is coordinated by a number of organizations.
The theme for IWD 2017 is "Women in the Changing World of Work". The world of work is changing, and with significant implications for women. On one hand, we have globalization, technological and digital revolution and the opportunities they bring, and on the other hand, the growing informality of labor, unstable livelihoods and incomes, new fiscal and trade policies and environmental impacts—all of which must be addressed in the context of women's economic empowerment. 
In 2015, world leaders adopted the Sustainable Development Goals, placing gender equality and empowerment of all women and girls at the heart of the 2030 Agenda for Sustainable Development. Achievement of the goals, including ending poverty, promoting inclusive and sustainable economic growth, reducing inequalities within and between countries, and achieving gender equality and empowerment of all women and girls, rests upon unlocking the full potential of women in the world of work. 
Additionally, policies must count for the women in the informal economy, promote women's access to innovative technologies and practices, decent work and protect women from violence in the work place. 
The 5th annual IWD, Sunday, March 5, at the Hyatt Regency Center will feature guest speakers sharing their success stories, dance and music presented by local cultural groups, and networking over refreshments. The event offers a unique way for you to present your organization's mission, stretch your marketing dollars, and reach an active audience who are engaged in the community. 
Last year's event drew nearly 400 participants. They represented a diverse community of Milwaukee women and their supporters, crossing ethnic and religious affiliation to celebrate. We invite your organization to participate as an event sponsor. By supporting IWD you make an investment in our community.
Metadata (will be hidden)
EventID = 31208771275
OrganizerID = 7884497830
VenueID = 17979334