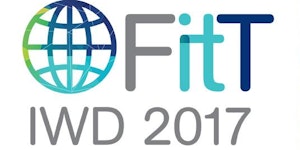 fitt
Event:
Start:
Wednesday, 08 March 2017 11:45
End:
Wednesday, 08 March 2017 15:00
Category:
Organizer:
Venue:
Star City – Event Centre
Address:
80 Pyrmont Street, Pyrmont
Sydney
NSWAU
FITT presents the 2017 International Women's Day Luncheon
 'Celebrating the Digital Frontier'
#IWD2017
 #FITT_IWD2017
It's no secret that Information Technology is one of the most pervasive, if not THE most pervasive industry today.
At home, in the office, in the car, in the supermarket, bank or gym – Information Technology is everywhere.

It's pretty easy then to draw the conclusion that there are lots of really cool jobs out there in the IT and digital space and that skills in STEM can take you pretty much anywhere you want to go in your career.
This year, FITT is 'celebrating the digital frontier' and our IWD luncheon series will feature a number of people with cool carers and super cool outlooks when it comes to the opportunities that our industry presents… and where they see the future of digital heading.
We invite you to join with hundreds of people across the ICT industry to hear about the digital future from the eyes of a rocket scientist, a leading Group CIO of an ASX listed organisation, inspirational inventors and more… They're the people of today who are pushing the boundaries for tomorrow.
So, come and celebrate International Women's Day 2017 with the FITT community and be part of the discussion about how we can all join together to 'celebrate the digital frontier' and in doing so, build a greater, brighter and more exciting future for our industry, locally and globally.
There will also be opportunities to network – both over the sumptuous lunch and during our networking breaks.
The FITT IWD luncheon events sell out each year, so we encourage you to get your tickets before they're all gone. Be part of IWD 2017 – and Celebrate the Digital Frontier!
Ticket Cancellations
Ticket cancellations will be accepted up until 7 working days prior to the event.
Refunds will be provided in full, less any booking fees and credit card charges that have been paid up until this time. Cancellations less than 7 working days prior to the event are non-refundable. 

Please contact  This email address is being protected from spambots. You need JavaScript enabled to view it. if you would like to request a refund.
Ticket transfers
Tickets can be transferred to another colleague or guest. If you would like to transfer your ticket to another guest, please contact This email address is being protected from spambots. You need JavaScript enabled to view it. to make the necessary arrangements.

Please note: Ticket transfers will not be possible after March 3, 2017 due to venue logistic requirements.
Metadata (will be hidden)
EventID = 30231815173
OrganizerID = 4799363007
VenueID = 17674547