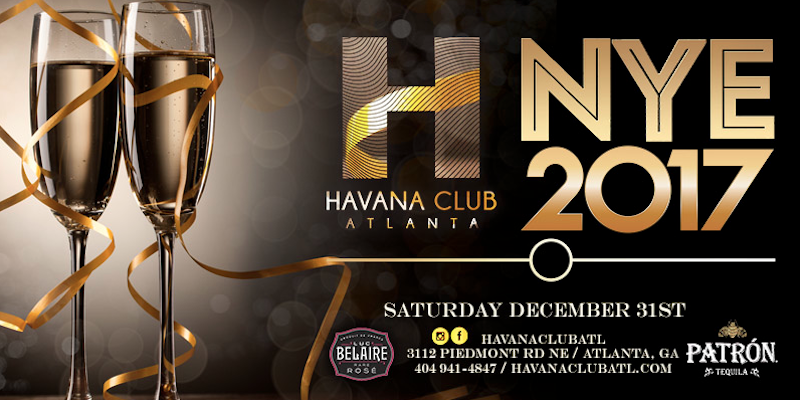 Event:
Start:
Saturday, 31 December 2016 19:00
End:
Sunday, 01 January 2017 03:00
Category:
Organizer:
Venue:
Havana Club
Address:
3112 Piedmont Road Northeast
Atlanta
GAUS
Havana Club ATL | Patron Tequila | Luc Belaire
In a nightclub where celebration comes standard with every visit, special occasions like our New Year's Eve event has become a full force, out of this world, sold-out, extravaganza.
All guests can indulge in our three unique rooms with Live Djs and dancing. To top off the night to your elegant evening, we will offer a countdown to midnight with champagne toast and guests can watch the balloon drop across the 3 dance floors. New Year's in Atlanta will never be as exciting as it is at Havana Club ATL! But don't wait until the 31st to book your ticket, with so much excitement, luxury, and seven hours of nightlife entertainment, these tickets will sell out soon and early bird specials won't last for long! So make ringing in the New Year memorable with Havana Club's New Year Celebration 2017!
Early Bird Tickets start at:
General Admission: $30.00
-Complimentary Champagne at entrance
**************** $2,500 BALOON DROP ****************
- 9 Bars. Full Humidor. 3 Different Rooms to Explore.
- Premier VIP sections to ring in the New Year in style
- A delicious New Year's Eve FOOD station
- Special invited Celebrity guests
- The largest champagne toast in the city
**************For VIP Tables Reservations***************
-

VIP TABLE PRICING





**** Silver Package ****




**$1000 table minimum **




-8 VIP tickets




-2 Premium Bottles & 1 Bottle of Champagne





****** Gold Package ******




*** $1500 table minimum ***


-10 VIP tickets
-3 Premium Bottles & 2 Bottles of Champagne

**** Platinum Package ****
** $2000 table minimum **
-4 Premium Bottles & 3 Bottles of Champagne
-15 VIP tickets
-Premium Seating

**** Diamond Package ****
** $2500 table minimum **
-5 Premium BBottles & 3 Bottles of Champagne
-20 VIP tickets
-THE BEST TABLE IN THE HOUSE
For all inquires please contact:
-

This email address is being protected from spambots. You need JavaScript enabled to view it.
You've never been to a New Year's Eve party like any other than at Havana Club ATL. Come experience the difference and start your year off with a bang!
Metadata (will be hidden)
EventID = 30106575578
OrganizerID = 1432306450
VenueID = 11052803

https://img.evbuc.com/https%3A%2F%2Fcdn.evbuc.com%2Fimages%2F26525877%2F19569498248%2F1%2Foriginal.jpg?w=800&rect=69%2C0%2C796%2C398&s=a499dd82fe3c6effa35f604ebfe64515
Save
Save
Save
Save
Save
Save